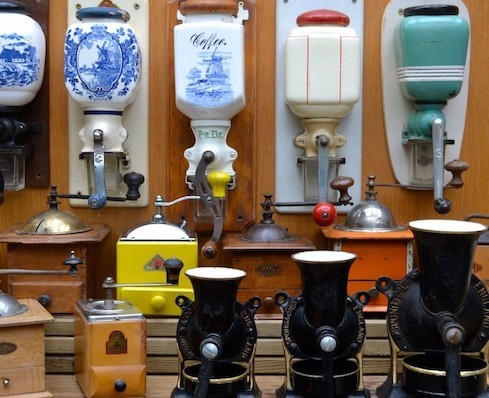 View full size

Display all pictures
Wall mounted coffee grinders
Who said coffee culture was a product of the 21st century ? To be honest, most of our terrific vintage coffee grinders were brought to the UK from Europe by people who wanted real coffee. Before the advent of instant coffee, most people drank tea and there was little demand for coffee grinders outside the great houses and Lyons Corner Houses.

Most common in the UK were the black and gold cast iron grinders which could be wall mounted or clamped to the table and came in four sizes. History doesn't tell us whether Spong were the original designers as Falcon, Beatrice, Weigall and Kenrick produced identical ones, although the latter produced one in a cream and green colourway in the twenties and thirties. The much favoured Spong utensils were sold to Salter and they continued to produce the same grinder for another decade under their own brand.

It is rare for them to come with their original trays, so we supply replica ones produced in our workshop.
Holland gave us great wall mounted grinders with cast iron mechanisms and ceramic hoppers for the beans. Many of them had Delft scenes of windmills on them and were made by PeDe or DeVe. Others had Coffee painted on them in a number different colours. Some were more decorative with flowers or leaves.